Great Design can be hidden anywhere, the difficulty lies in finding it. Gianluca Greco, owner of Flanerie Milano, tells us about the research work, the desire to find and to get people to know of the hidden beauty of Italian and international Design. Curiosity, knowledge and respect for the past lead to finding authentic pieces that made the history of our country's architecture.
NOWARC: When did Flanerie Milano open and what's the idea behind it?
GIANLUCA GRECO: Flanerie opened in March 2017 and was born to harmonizes the fascination for second-hand furniture with the tendency for flanerie.
On one hand, I have always been fond of flea markets. The economic side of used goods has always intrigued me: why does an object that has been used and "worn out" still retain a value, to the point of still having a market? On what basis are sellers and buyers able to give a price to said item?
On the other hand, I have always had an attitude that could be defined that of a flâneur, a figure of modern life outlined, among the first, by Edgar Allan Poe in the short story Man of the Crowd, and then developed by Baudelaire, Benjamin and others. In the Italian language it is only partially translatable as "vagabond" or "idler": actually the flâneur is the one who slowly wanders around the modern city, apparently with no destination, but in doing so he manages to appreciate all the beauty that surrounds him, which other people cannot see, subdued by the frenzy of metropolitan life.
NOWARC: What was the process that brought you to this particular specialization?
GG: It comes from the desire to give value to the pieces that I see, particularly in the Milan area and more generally in Lombardy. The core of my offer is the Italian design of the Sixties and Seventies, but I won't ever waive to extend my choices a little bit back or forward in time, if I happen to come across pieces which I consider worthy.
The exemplary exception is Herman Miller furniture, such as George Nelson's bookcases, or that absolute masterpiece that is the Aluminum group of the Eames couple, which, among other things, was imported in Italy by DePadova, one of the symbolic companies of Italian design.
NOWARC: How is the modern antiques market changing?
GG: Like all emerging markets, that of modern antiques is ever-changing and subject to fashions: the public taste can totally change in just a few months and forniture that was much sought after two years ago is now ignored, or vice versa. What's great about this "flickleness" is that customers are increasingly competent and therefore more demanding.
The skill of the seller consists in anticipating future trends, without however renouncing to offer customers what they are looking for right now.
NOWARC: What's different in Italy compared to other countries?
GG: Until just few years ago, buying second-hand goods in Italy was not too common and almost socially stigmatized, while in other countries, such as England, the United States or France, it has been perfectly normal for a long time.
The oddity is that design is a chapter of our cultural history for which the whole world admires us, yet it's still little valued in Italy. Italian Design is underestimated in its country as that happens in other artistic and cultural fields: being born amidst so many masterpieces can lead to undervaluing  them.
But nowadays things are changing, even though slowly. In Italy there's a widespread attachment to "labels": we love to see them applied to objects, and looks like that if something isn't labeled, we can't even see it. And I must say that the vintage label, although a little generalist, has given a  little contribution to revive interest toward design.
However, for modern antiques shops like mine, worldwide sales still are a fairly significant part of the revenue.
NOWARC: What is the role of auctions houses: what's their influence on the market? Do they affect customer perception?
GG: Auctions are fundamental: they are giving a great contribution to make the audience aware of the value of our heritage, moreover they offer a useful reference to fix price levels and help understanding the trends of the moment.
Yet it's vital to be able to understand quotations and trends. Some objects can get to 5-to-6 figures prices, but we are talking about design masterpieces, and/or unique pieces that in some cases have a historical value and are the symbols of an era.
NOWARC: What about precious but accessible vintage?
GG: Comparing same quality of workmanship and refinement in vintage design and newly made objects, vintage prices are much lower. To give an example: for the same price, a vintage sofa from a prestigious brand and with an avant-garde design, will be, after forty years, in better conditions than a sofa purchased two years ago from fast furniture. A new piece of forniture is worth 1/3 or less of its price the exact moment of the purchase, while a vintage object can increase its value over time. Proof is that, likewise other kinds of collectors, skilled design enthusiasts not only manage to satisfy their collecting "hunger" but often also manage to make a profit.
A certain propensity for exchange is therefore widespread among design enthusiasts and is what makes  the street markets we mentioned at the beginning so interesting.
NOWARC: How do you find the most sought-after pieces?
GG: I buy almost exclusively from private individuals, pieces which have been bought or inherited. That's one of the most fascinating aspects of my job: many of the objects I bought were part of families' lives, they were bought out of passion, sometimes with sacrifices. Appreciating them and making them appreciated is also a form of respect for that hidden story.
NOWARC: Tell us about some of the more significant pieces that clearly exemplify what's Flanerie Milano is all about!
GG: At least three come to mind.
The Kubirolo by Sottsass, a series of modular cubes intended for children's bedrooms. I was lucky enough to acquire a batch of them in a wood-colored version that had never been presented in the vintage market. The owner was amused: he could not believe that what he had bought decades ago for his daughter's room had become a cult object, desired by collectors all over the world!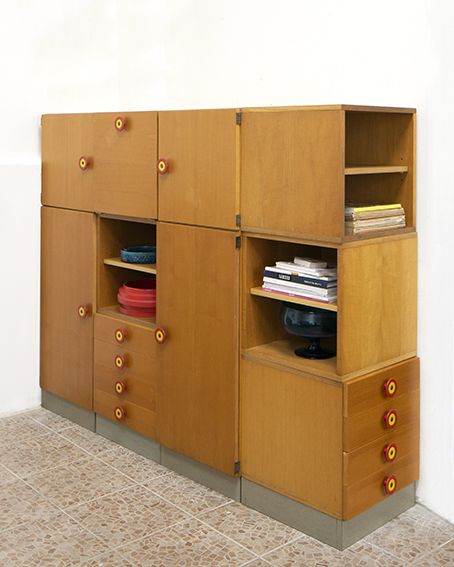 The Samaden armchair with its footrest by Caccia Dominioni for Azucena. An armchair that has been kept indoors for almost sixty years, on which only one person sat. The wife still kept Azucena's bill! The conditions were excellent, it looked like it had come out of the warehouse the day before. It was exciting to exhibit this piece, since even the heirs of the Caccia Dominioni only had an old archive photo.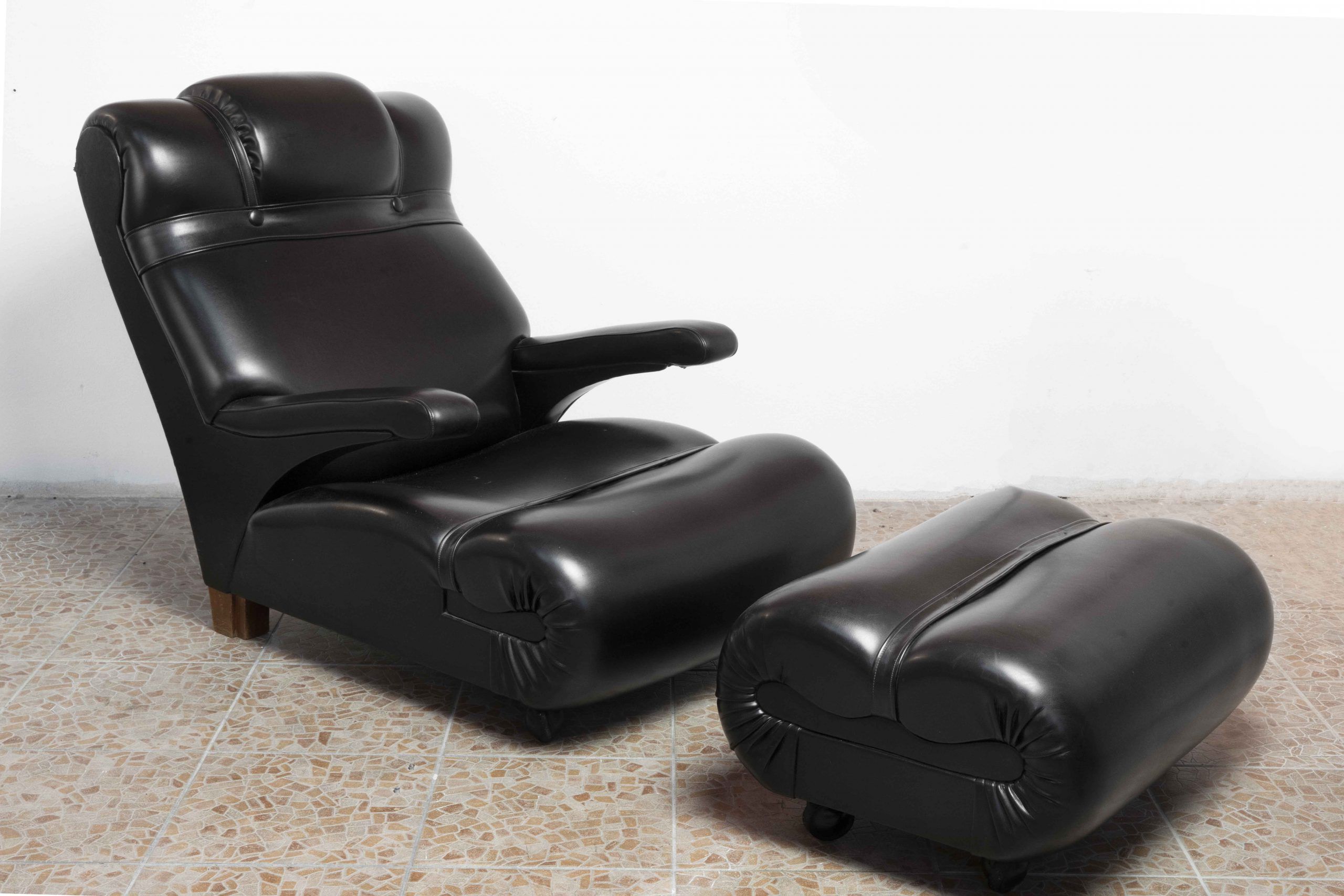 Finally, recently, I acquired a pair of Franco Albini wall lamps ( For sale here on Nowarc.com ). They come from one of the first buildings built by Albini, the INA palace in Parma. They were specially designed for this building, which housed seven of them. These lamps illuminated the staircase, a photograph of which can be found in many architectural books.
The shape of these lamps is totally consistent with the environment they are meant for, that is, reduced to the essential, as it is in the style of Albini: a cylindrical neon protected by a brass cage hanging from a hook. They are reminiscent of lanterns or torches to illuminate the path. Even the staircase, like the lamps, is detached from the walls of the well, which in the jargon is also called a cage, if not for some supports. According to Gio Ponti, this building was what to look at in order to "understand the architects of today".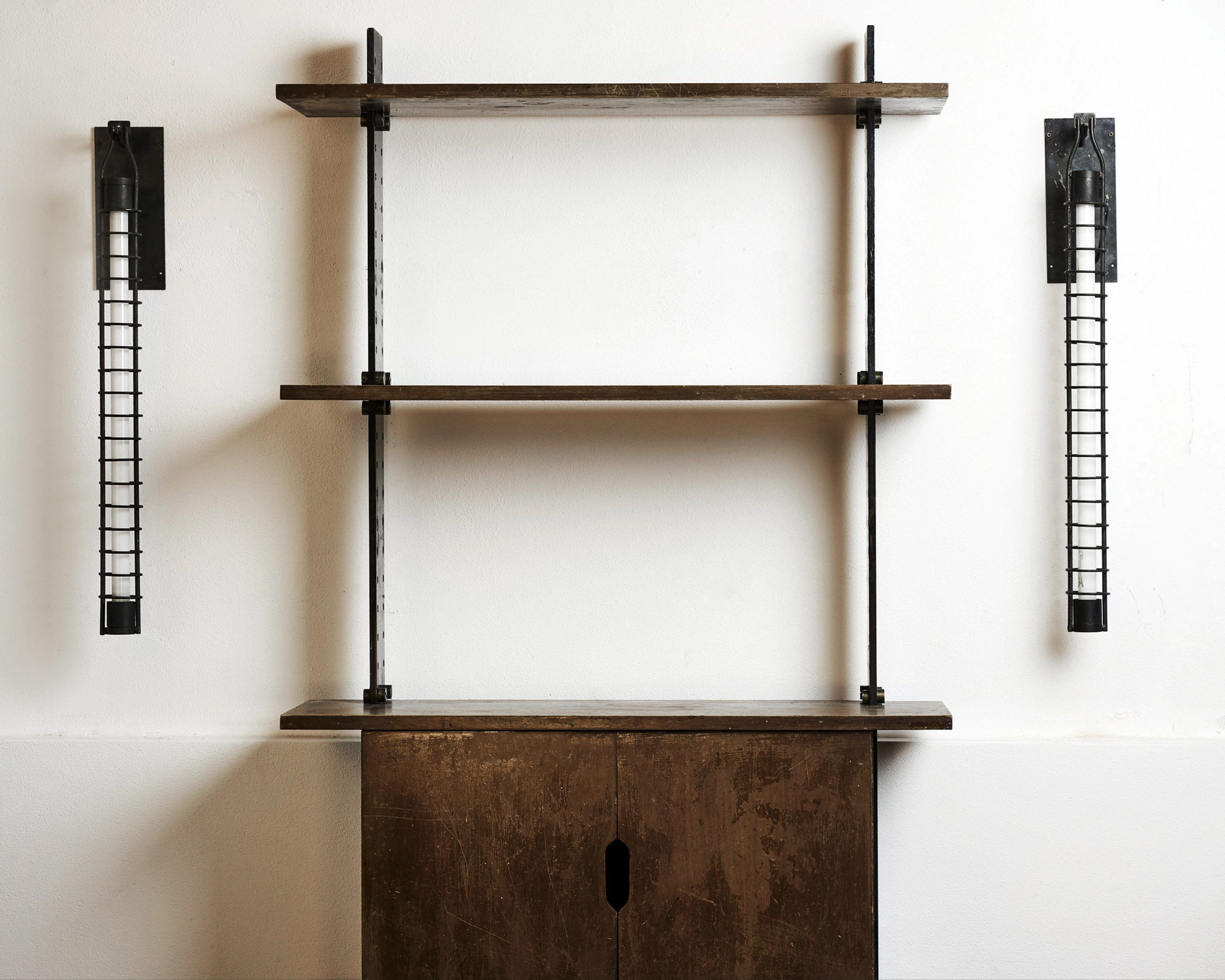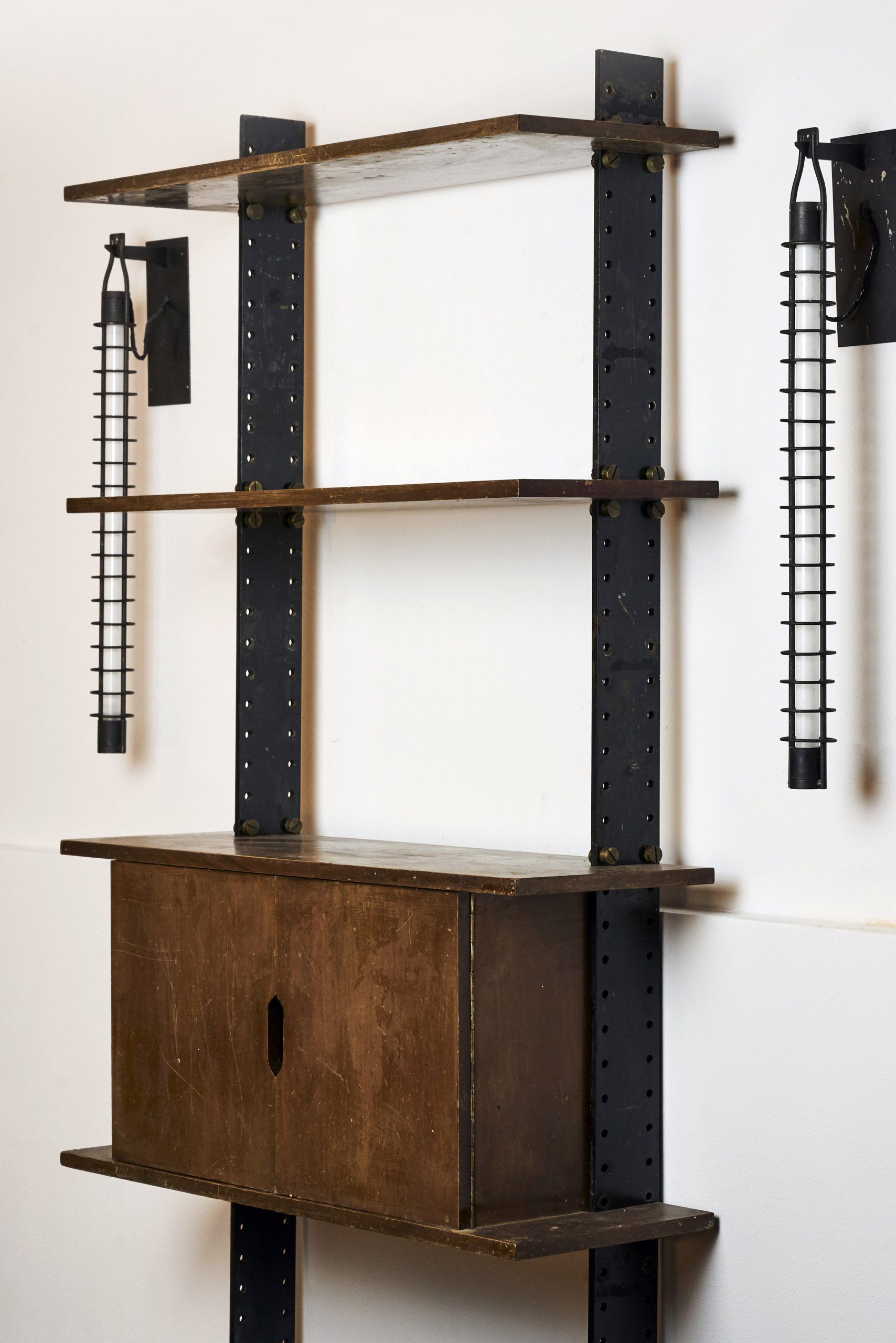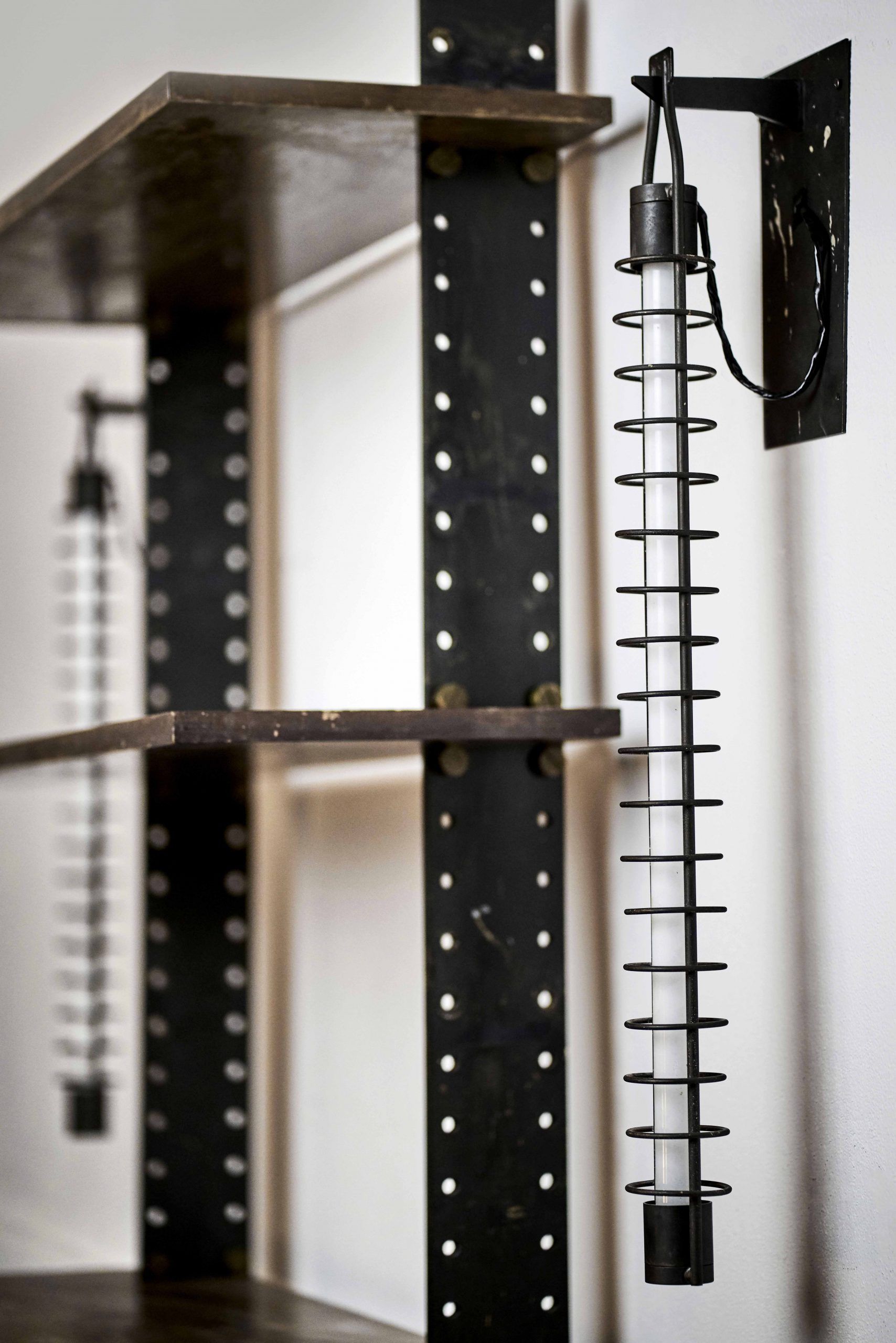 He was referring to architecture in the aftermath of the World War II. I'd like to think, especially in today's context, that these lamps are the prelude to a new ferment of creativity after such a difficult year.
Gianluca Greco – Flanerie Milano
Photos by Daniele Portanome